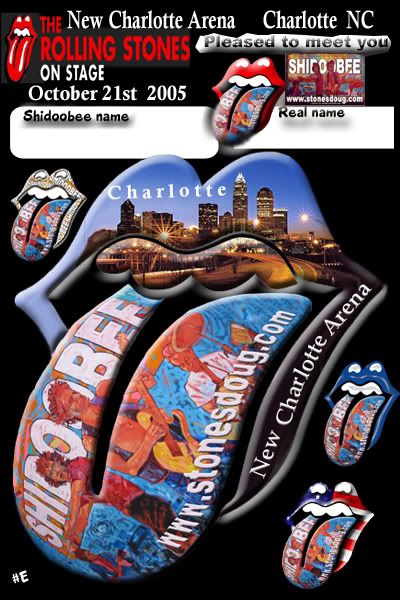 SETLIST
1- Start Me Up
2- You Got Me Rockin
3- Shattered
4- Tumbling Dice
5- Oh No Not You Again
6- Ruby Tuesday
7- All Down the Line
8- Nighttime is the right time
INtros
9- The Worst
10- Infamy
11- Miss You
12- Rough Justice
13- IORR
14- Honky Tonk Women
15- Sympathy for the Devil
16- Paint It. Black
17 Brown Sugar
18- Jumping Jack Flash
Encore
19- YCAGWYW
20- Satisfaction
SHIDOOBEEans in attendance ---95
Jagty
Lauren
VooDooAllie
GimmeStones +1
ShatteredISM
Angie
Chelsealady
StonedForever +3
passon25 + 5
KentuckyDerbyDay
Fred Hardin
Sheezdaboss
nellcote1971
40icksdame
Skippy + wife
Aloha Doug
thousandlips +1
DeeBonner
wembley
stonesissippi +1
scapegoat110 +1
RollingStonesCollector
OPENGDGBD +6
charlotte 2020
whatcanapoorboydo
jtcouch +1
havethatmuchjam
ExiledinVirginia
sweetvirginia1
torn and frayed75
Z & A
poplar
NJLSTONES
Stephen
RubyTuesday1
BetZ
Reinhard
alphacontaminated +1
Phil Stoned +1
RollingStonerNCSU +1
mike aka profenc + 2-4
stonesriff+ 3
razzstoner +3
Mike from Canada
IGTBA +1
Stonedin NC +1
Karliemarie
FLASH
JumpingJack
Satisfier 6986 +3
Shidoobee Den Den
stonefanbeltz +1
Stoned Wildcat +2
fyman Tony & Trish
Mr Lawyer
Dini
akissaway
REVIEWS
from StonesJuno
Arenas! Love them, don't we all? I'll be quick with some concert observations. Keith was VERY animated tonight, just having fun all over the place. Someone tossed a huge bra and it got snagged in his guitar. Nothing sexy, support wire style, it was a bit much.
So many familiar faces. New friends too. A great time. We also lucked out with 3 Keith Richard guitar pics. It was nice to get pics and not get clobbered in the process. On the way out, I found one on the floor when we were leaving. I was told it was Keith's, 1 of 2 he tossed never caught or found. I gave it to a friend of ours -- it was unique, Stones Tongue and date, but a surprising name on it.
Security was tight. We had front row, and they seemed loose at the start, but when the show was under way, they kept the rows tight. Not a lot of pics being allowed, no seat standing, and no gate crashing as far as I could see.
Toward the second half of the show, with Isabel/Akissaway on my left and a pretty blonde on my right, we 3 got on the big screen a few times, along with Malf and the StonesPlate.
If you see any pics of Mick carrying a sequined hat and Ronnie wearing it, it came from the blonde girl on my right.
Mick was crazy man all over the place. You know, the usual, but he seemed to have a runny nose and drank a lot of water. But his voice was great, and his dancing was frenetic, so it could have been allergies? It's a great venue. Brand spanking new. Very art decco (sp?) too. They did pop this cherry, as Mick said, of being the first act or event to perform here. The boys looked and sounded tight and happy. They love doing Shattered, for sure. Also the stadium went extra loud when Keith was intro'd. Followed by the sound of "Keef" being chanted over and over again. It was great, and I'm sure I could see Keith blushing!
-----------------------------------------------------------
from OPENGBGBD
My first show this tour. Everyone is right about the guitar sound - up front, raw and fantastic.
Keith and Ronnie were having fun, playing more guitar than on any tour since 81. No big holes in songs where all you hear is Chuck like on the Licks tour. Keith really amazed me. Seen Keith with the Stones, solo and New Barbarians and this was the best Keith show I've seen.
It was the first event at the Charlotte arena. Mick said he was glad to 'burst the cherry' on the place and Keith said 'you didn't have to build a new place just for us'.
Highlights:
Oh No Not You Again - Amazing!!! Overall best Chuck Berry riffs since YaYa's. Thank you Keith - you are why I learned to play guitar
Ruby Tuesday - Mick captivates the entire audience
All Down the Line - Keith and Ronnie high speed magic. So cool...
Nighttime is the Right Time - Lisa's and Mick's performance can't be missed
The Worst/Infamy- Keith flicked his cigarette across the stage and kept more of the crowd on their feet than I've seen in past.
Rough Justice/IORR - At the start of RJ on the B stage, I could hardly hear Ronnie. Keith's guitar was twice as loud and his guitar blasted away on those 2 songs, playing non-stop amazing raunchy rock licks.
Honky Tonk Women - Hard and loud. Great version.
Sympathy for the Devil - Mick took over the stage. Amazing. Keith solo has those bursts of eletricity from the 72-73 tours
A great batch of songs at the end. An amazing finish like they always pull-off.
Yeah it's a song or 2 shorter but if you were there you should not have felt cheated at all. If anyone is so jaded that the number of songs or if the variety of the setlist gets to them, it might do them some good to stay home for a while. Come back when your ready to rock.
----------------------------------------------------------
Stones give satisfaction in N.C.
Stones give satisfaction in N.C.
By OTIS R. TAYLOR JR.
Staff Writer
Bang.
Thats how the Charlotte Bobcats Arena began its existence Friday night courtesy of the self-proclaimed Worlds Greatest Rock n Roll Band, the Rolling Stones.
Touring in support of its latest disc, A Bigger Bang, the Stones have been gallivanting through the states with an arrogant, confident swagger.
Hey, after 40 years as a band, the guys deserve to be a little cocky.
Like butter in a warm frying band, Ronnie Wood and Keith Richards melted guitar chords with nothing but ease. Drummer Charlie Watts crisply paced the band with bassist Darryl Jones and keyboardist Chuck Leavell. And what can we say about Mick Jagger?
With his run-scamper movements onstage a pristine gentlemans prance if you will it was obvious from the opener Start Me Up that he needed more room to roam.
On slow burners such as Ruby Tuesday, Jagger crooned like a singer in his prime. Is he really over 60?
Yeah, you can call the Stones old, but theyve still got that spark that can make more than 15,000 fans swing and rock. And thats why the Stones are able to make fans out of their fans kids, as there were plenty of young faces in the crowd.
Columbia resident Dr. Ezra Riber passed his love of the Stones to his 14-year-old son, Sam, who rocked beside him. Hes always been a huge Stones fan, Sam Riber said. I love them now.
Riber, who first saw the Rolling Stones in 1969, has seen 36 shows the last 36 years, including four on this tour.
Riber had company. His friend Donna Whitaker flew in from Ohio and her son Hank flew in from Indiana to join Riber and Sam at the show.
I caught this thing I cant get rid of, said Riber, a pain specialist. It just fused into the family since theres so much Stones played at the house.
The Stones played just about everything the crowd wanted to hear.
They played a dirty-blues version of Ray Charles (Night Time is) The Right Time, with Jagger and a backup singer play-acting through the song.
After Richards sang The Worst and Infamy, the Stones blitzed through the hits.
During Miss You, the stage lifted and became mobile, slowly drifting the Stones to the back of the arena. (The set list was written on Watts sound-dulling boards on both sides of his kit, so there werent any song surprises left for those who noticed.)
Then it was songs such as Honky Tonk Women, Rough Justice, Satisfaction, Jumpin Jack Flash and Sympathy For the Devil.
With sold-out arenas and floor tickets at this concert reaching $350, some might say the Rolling Stones are playing for the money.
That might be true, but the band looks like it is having fun rocking. And the music sounds good, too.
Joss Stone opened the concert, cooing R&B and neo-soul ballads. Songs such as The Right to be Wrong are possessed with her dangerously-in-love (sorry, Beyonce) vocals
------------------------------------------------------------
from JumpingJack
The sound was crystal clear where I was in 15th row by the walkway, better than Phillips. An excellent high energy show with lots of my favorite songs including a searing ADTL. Security had fun watching me rock out in my green shirt next to the walkway during Shattered and then gave me 2 Keef pics, and then he said SHIDOOBEE to me. Yes, membership in our honored group has its priviledges!!!
My walkway seat gave me easy access to the B-stage where I met up with many other Shidoobs wise enough to get there early. Being on that rail while they are ripping Rough Justice and IORR in your face is something else. Chuck was moving about and I was again jumping, pointing and trying to get attention when he saw me and my shirt and let out a big SHIDOOBEE, winked and smiled. Quite a nice southern gentlemen.
All the warhorses were done exceptionally well and Mick and Keith were interacting and having a great time. I can't believe I have to wait for Vegas to catch them again.
The pre- and post-parties at Phil's were a blast and got to see the southern group of Shidoobs again and many new folks as well. A great time was had by all.
The only other words of wisdom I have to add now are:
WOO EFFIN HOO!!!
----------------------------------------------------------
From AlohaDoug
The moment came during Its Only Rock and Roll (But I Like It). Keith Richards and Ronnie Wood were wailing away on guitar, Charlie Watts was punctiliously pounding out the beat, Darryl Jones and Chuck Leavell were anchoring the rhythm. I didnt see any of them. Mick Jagger was dancing directly in front of me, his hips swirling to the beat and all I could do was watch his navel go around in circles.
A song earlier, Rough Justice, had me dancing and singing and raising my arms, totally absorbed in the musical moment. But now Jaggers belly button was exposed as his shirt rode up, he was close enough that I had a fleeting image of myself reaching up and poking it with my finger, and I stood transfixed. It was that moment when I realized I am a B stage junkie.
A Rolling Stones concert has become a bell curve of emotions for me, from mildly entertaining at the start to the point where I can barely able to breathe during Keiths set, knowing the B stage is coming next. The run of warhorses to close the show are a denouement, a post climax slide thats most exiting moment for me comes when the confetti and streamers fall from above. Watching the Rolling Stones on the B stage, performing three feet away, is nothing more than a rock and roll orgasm.
There is a different kind of excitement in the crowd when the Stones come to the B stage. It is more primal, with a sense of danger even, as the band is exposed and isolated on the small platform away from the main stage. The energy surrounds them, elevates them, injects them. They must get off on it, too.
Sure, the rest of the show in Charlotte was pretty good. Mick commented on it being the first event ever in the new arena (which is gorgeous), saying they were delighted to pop its cherry. All Down the Line kicked in to overdrive at the end of the song unlike Ive ever heard it before, and Lisa wailed during Night Time is the Right Time, bringing down the house. Keith took an extended solo out on one of the wings during Satisfaction, the last song of the show, ripping into the strings on his guitar.
Some things didnt work so great. The changed tempo Sympathy for the Devil still doesnt do it for me as I found the most interesting thing about the song was watching Blondie and Bernard shake maracas as Lisa shook a leg. Jumping Jack Flash neared becoming tediously drawn out. The sound was insanely loud at the start of the show, but moderated, and was simply pathetic during the B stage as the beat in Miss You echoed off the back of the building as the band floated out and they changed speaker systems. The vocals in Rough Justice and IORR were virtually unintelligible, but who cares when Mick is shaking his navel in your face?
Watching the band from so close is just fabulous. You can interact with the band; the double take Mick did when BetZ held up a small sign that read I Want My Bra Back was priceless. Although they no longer shake hands with anyone in the crowd there is a lot of eye contact and smiles.
Smiling is what I am doing today, completely mellowed from my high last night. Sure I had a terrific barcalounger seat on the front row of the upper deck, but who wants to sit there when you can be on the floor? Thanks, BetZ for the pass, and the set list.
==============================================
from BetZ
People sometimes ask me to rate the Stones shows I've seen, especially shortly after seeing (yet) another one. I tell them that's very hard to do - each one is special in its own way. I can usually tell them if there's a show I really didn't enjoy (has happened, but rarely) but not rank them as in "Charlotte was better than Durham, but not as good as Giants" type of thing (for instance...) A lot of this is because it's more than the music - it's also the experience. And that's where this review is going to come from - the experience. Based on that, this is one of the best shows I've ever been to.
This is going to be long - that's the nature of the review - but if you're willing to get to the end of it, I swear it'll be a good story and may make you smile. To make it easy on you - I'll label a section "The Story of My Bra", and if you want you can skip down there because that's probably the most entertaining part.
But let's start with the venue. The show last night was at the New Charlotte Arena. And when they call it New, they mean it. Last night was the official Grand Opening, complete with red carpets and media and all that. Yes, the Stones were breaking the place in, or as Mick put it, popping its cherry. There was obviously a lot of pride in this place, from the people greeting us at the door, to the security guard pointing out the $4.12 million high-definition retractable score-board, to the refreshment stand people still taking pride in serving us water at the end of the show, to the people at the door as we
were leaving us, saying they hoped we enjoyed our evening and to come again.
I enjoyed, and I'd come again in a minute. This arena is *tiny*. Small. Intimate. Really really intimate. The floor space is not much larger than the actual basketball court that lies underneath the floor-seats. The B-stage felt closer to the main stage than I've ever felt it. It really was almost like having them in your living room. As sacrilegious as it may sound, it felt a lot more intimate than even Roseland did - probably because Roseland was so damned crowded when you're that close up.
The floor was small in that everything was close, but roomy in that you weren't crowded. The perfect balance.
Granted, the place was built for basketball, so the acoustics weren't perfect, but they were damned good on the floor in my "usual" spot near the B-stage. At times the volume was too loud, but that's not acoustics, that's volume. A few times a squawk came from the stage like everyone played the wrong
note at the same time - don't know if that was acoustics or the band. And of course the B-stage sounded like crap, but it always does when you're that close to it. Like a Kung-Fu movie from the 70's - Mick's mouth moves, there's a delay, then you hear the sound. But really, it was quite nice for an arena that's not built primarily for music, at least on the floor.
Our tickets were for row B just behind the B-stage. So 2nd row B-stage. Nice spot. They were actually two chairs that were added to the end of the row when they realized how much space there was available. We picked them up for "cheap" the week before the show - and glad we did! It was a sellers market out there last night with more people looking than selling (though despite that I saw empty seats in the 200-level...) Anyway, the people behind us were convinced we were "someone special" because "they added those two seats at the end of the row just for you!". When they asked us who we were, we just sort of chuckled and said "Nobody, really" but they didn't believe us. Their fault, not ours
But we didn't stay there. We were at our usual corner after Start Me Up (the security guy at the corner told us we had to leave for the opening number, but when we asked "Can we come back after that?" he said "I don't mind". He was a nice guy!) Me, Reinhard and Aloha Doug. Two of my favorite guys to be at a Stones show with - a good combination.
Sometime during the show, the couple from behind where our seats were comes ambling up, say hello, shake our hands like we're old friends, and are shocked when the security guard asks them to leave. We think they were trying to play "We know these important people, so we'll stay here with them." It backfired. That made me grin.
Anyway - show's going well - sounds pretty good, I'm enjoying myself, though also thinking that YGMR doesn't really do it for me live (strange - I like the recordings of the shows I've been to, but not so much live), enjoyed watching the green shirts in the audience go wild over Shattered... I missed most of Oh No Not You Again, but I won't complain because I missed it while hearing a very interesting story from someone on the other side of the fence from me. Then came the really special part - I love what they're doing in this section of the show. Last night it was Ruby Tuesday, All Down the Line, Night Time. Lisa just blows everyone away during Night Time. People were even talking about her in the elevator at the hotel the next morning, wondering who she was.
Then the conundrum. The hard part for me for the show. You see, I'm a Keefian. I love hearing Keith sing, I love seeing him center stage. I like the slower songs (though I do wish he'd mix it up a little, I keep in mind most people don't see the Stones multiple times...) But at the same time, it's the time for me to move to a better position for B-stage viewing. So despite the fact that I do love Keith so, I move back from him during his set and don't stand there and just enjoy. What's a girl to do? We moved back and were on Ronnie's corner.
This is when we saw some security guy practically in a panic.
I have been to quite a few B-stages in my time, and I have NEVER seen one this close to the railings. I mean, close. AlohaDoug was not exaggerating when he posted about being close enough that he could have reached out and put his finger in Mick's navel. But the thing is, there was no security between the railing and the B-stage, and that was NOT what was supposed to happen. Around this time Mr Ono comes by and we pull him in with us, so it's Me, Reinhard, Ono and Doug lined up from the corner of the B-stage (not the corner of the rail - that went out further). And we're shooing this female security guard into the very small space between the B-stage and the railing, and keep shooing her in until she's positioned about 2 people down from Doug. This means we don't get our view blocked.... no security between us and the stage. (We know how to behave, though - nobody grabbed anybody or poked belly-buttons). Around this same time the same person who was talking to me during ONNYA walks up to me, reaches in his back pocket, and hands me his copy of the set-list A real live working copy.
Cool!
B-stage was awesome - but that has to do with the story of the bra so it'll be told at the end. There's a new video showing during Brown Sugar. I think the guys really found a new appreciation for Paris during this video. Especially the Eiffel Tower. May have something to do with the giant woman humping it, but I don't know
At this point the security guys near us are really getting into the show. I'm used to the stone-faced young guys who stand there and take the job very seriously. These guys were taking the job seriously, checking stubs, chasing people from the rail (well, not us...) but they were also playing air-guitar and jamming and singing along. It was good to see that.
One guy near us wanted to know how many more songs, so the guy closest to us asked me (3 more after this one). Then the one closest to us said "But they haven't played Satisfaction yet!" I reassured him they would...
When the encores came, Doug started to pout. He wanted his confetti, but there were no cannons at the B-Stage and nothing falling from the sky. He just wasn't getting his Satisfaction... at least not at first. We kept looking up, which made security look up wondering what we were looking at. They found out LOTS of streamers - hooray! One of the security guys went and gathered all of the streamers that fell into the "catwalk" area and handed it out to people on their way out at the end of the show.
Also at the end of the show I went to visit my set-list friend. (REALLY nice guy). Told him I had gotten one already from Mr.X, so I'll give mine to my friend Doug tonight. He said "It's great having a working setlist - but have another anyway!" and handed me another. Such a sweetie! Doug ended up with mine in the end (someone else ended up with his) so it all worked out well.
----The Story of My Bra----
Before the show we were at Phil's (great party, BTW) and I knew I'd be at the B-stage and decided to make some signs. I've never done signs before, but what the hey. So I made one that said "THROW ME A PICK PLEASE" and another that said "ONE (heart) 1 KEITH", and a third sign, which I don't think anyone saw me write. I brought those into the show with me.
Now, I've been known to toss a bra or two at the B-stage, and I have yet to toss one that hasn't been picked up. And I knew there was a distinct possibility I'd be tossing one last night. And it happened.
At the end of Miss You, I throw the bra up on stage... one of my worst throws ever! It doesn't land in front of anybody - just flops to the floor unnoticed. I think to myself "Oh well - it was bound to happen eventually" when Ronnie comes around the bend, sees the bra, and bends over and picks it up. (We have a picture... Ronnie's a bit blurry, but Keith's clear and looking amused at Ronnie) He twirls it around his head, and tosses it across the drum-set to the other side of the B-stage. Great - I still have a perfect record with the bras! And it's at this point I hold up my mystery sign.
So I'm standing on the rail with this piece of paper, and some of the stage hands see it and chuckle, so I know it's a good sign. Mick's doing his rounds, counter-clockwise as he often does, and comes flouncing around the bend, looking around, and comes to a dead stop and does a tremendous double-take, and stares directly at me with this combined look of shock, surprise and amusement on his face. I mean, a hard double-take and a good look at me. I guess the sign was effective. It said: I WANT MY BRA BACK.
Now I'm fairly happy - I've been very obviously noticed by Mick, and I've obviously amused him. Least I could do after all the times he's entertained me.
Next up - Ronnie, who comes back towards me. I hold the sign a little higher for him to see (after-all, he's the one who picked it up) and he stops playing the guitar long enough to shrug and mouth to me "I don't have it anymore!", smiling also in amusement. Score 2 for me.
Keith's been on the far side of the stage, and I figure even if he wanders over he won't see my sign, so I change signs now... hold up the one that says "THROW ME A PICK PLEASE". Unfortunately, Ronnie didn't see this sign until Honky Tonk Woman, and the stage was already lifting up to head back to the front of the floor. But he did see it... and he threw me a pick. He really aimed hard (have a picture of that, too) but unfortunately it fell short and hit the edge of the stage and disappeared for a bit. We thought maybe it landed on the stage, but nobody could see it. Then we spotted it on the floor, right in front of Doug, just on the other side of the railing. So as the security lady was heading back out of that tight area, we had her bend down and get it for me I now have a pick from Ronnie
But that's not the end of it! We go back to my corner for the end of the show. At this point I have a set-list, and know what's coming. Was glad to see Paint It Black on the list, always really enjoy that song live. But the bra story continues....
JJF plays, the band leaves the stage, comes back for the encore, and start into You Can't Always Get What You Want. And I think to myself "What do I want?" and reach back into my purse and pull the sign out again.
There I am on the rail, back by the B-stage, and Mick comes out onto the little short catwalk at the center front of the main stage and is singing "You Can't Always Get What You Want",
hand outstretched, palm up, in a very Mick way, when he spots my sign again, held out into the center of that area. He almost laughs. In the middle of his singing, I see that outstretched arm jerk a little and he purses his lips tight to hold it in - but I do believe he found that once again amusing.
Timing's everything, and last night I learned there's nothing wrong with Mick's vision.
So as I started this - musically the show was good. Not the best, not the worst, but good. But in terms of the experience, for me last night was incredible.
Goodnight and thanks for reading this far.
------------------------------------------------------------
from jagty
This was the last show for me this year and again it was awesome.
Not the best show that I have seen this tour but still amazing.
I love Ruby Tuesday in the setlist and I especially loved Paint it Black. I think ONNYA works better on the main stage and Rough Justice is great on the B Stage.
We decided to drive to NC this time (we flew to Durham) and we will NEVER do it again! The ride was long and tedious and we had to drive back on Saturday. Big mistake!
So I missed seeing a lot of people but did run in to John and Diane and GimmeStones (Kevin). Sorry that we missed the pre party and seeing so many of our other friends!
My seats were terrible but we slipped in to 2 nice seats near the B stage. Not bad!!
Loved the view!!! All of the merchandise was cheaper in Charlotte. We bought the Tattoo You blanket for $40 and it was $50 everywhere else. Also I got a shirt for $32 that was $45 in NY!!
I can't wait for January, it can't come soon enough
------------------------------------------------------------
from GimmeStones
Thanks again to Aloha Doug for getting the Shidoobee gathering together at Phils Deli! It was great to see and meet many ShidoobeansFred and Teri, KarlieMarie and Flash, Sweet Virginia1, RubyTuesday1, sweetblackangel, 20redlights, Jumping Jack, Stonesissippi, whatcanapoorboydo, StonesJuno, DeeBonner, Wembley, ChelseaLady, stonedinNC, jagty and daughter after the show. Jagty, I commend you for that drive!!
Just like Aloha Doug, Mrs. GimmeStones and I didnt want to settle for the nosebleed seats we had in 204, so we made our way to the floor and found DeeBonner and Wembley after noticing that security didnt care who was heading down there. John and Diane, we had a great time hanging with you guys that night. Shortly before the show started, I saw Mr. Lawyer, in all of his big, empowering presence come barreling across the floor to his once-again awesome seat. Mr. L sorry we missed catching up at the pre-party. I would like to have greeted your son. This time the sneak attack to the floor worked for us!!
Thats the first time Ive been front row at the B-stage (on Chuckss side). Unbelievable!! That is much closer to the real front than front row will get you. I had never been arms length away from the band. Un-fucking-believable. I think we were in the best place for acoustics. I didnt think it was muddy sounding at all. Very loud!! From the minute we heard the bigger bang explosion at the intro, I knew we were in for a powerful night. BetZ, I saw your bra go onstage, not knowing it was yours. From that viewpoint, we also see all the pics they go through. I wonder how many they throw out to the fans on any given night. That was a huge bra that was thrown onto Keiths guitar during Sympathy. He then shook the girls hand after claiming her bra.
Songs of note: I was especially glad to get Shattered, Ruby Tuesday, ADTL, and Paint It Black. The energy between Mick and Lisa on Night Time was incredible. He was bumping and grinding her from behind, and they shared a kiss on the lips at one point. Those opening notes of Honky Tonk Women will make the hair on your neck stand up with the volume cranked up like it should be. I was surprised to see IORR on the B-stage. Again, Ronnie smoked the solo on YCAGWYW. I think Mick may have given him play on a little longer with the solo on that one.
This was my last show until? It's been great hanging out with Jumping Jack, Fred and Teri, and others for the past 3 weeks now. The Stones are rocking as solid as ever!!
Cheers,
Kevin
------------------------------------------------------------
PHOTOS
from BetZ
Ronnie Picks Up My Bra:
And throws me a pick:
Other images:
-----------------------------------------------------------